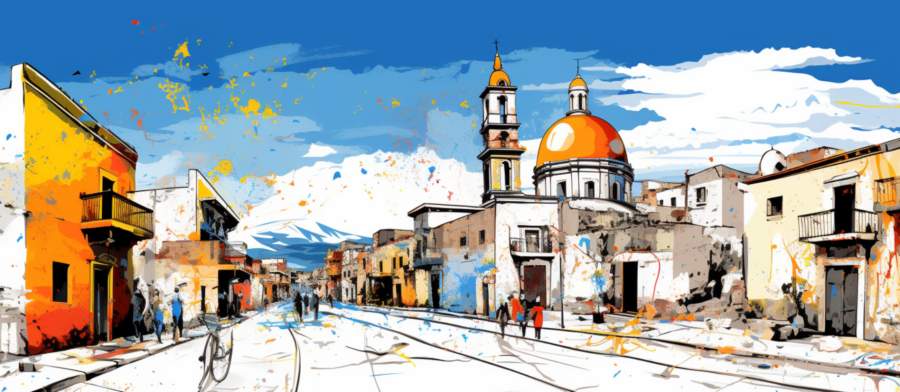 A Most Striking Cityscape
Let's cut to the chase, my friends. Arequipa, the "White City" of Peru, is an intoxicating blend of stark contrasts, architectural marvels, and culinary delights that will leave you with a thirst for more. Nestled amongst three imposing volcanoes at an altitude of 2,335 meters above sea level, the city's haloed skyline is like a siren's call to weary travelers in search of respite and adventure.
Founded in 1540 by Spanish conquistadors, Arequipa is the country's second largest city and boasts a unique blend of indigenous and colonial influences. The city's signature white buildings, crafted from a volcanic rock called sillar, gleam against the surrounding desertscape, begging you to come closer and explore their secrets.
A Culinary Utopia
It would be a grave error to visit Arequipa without indulging in the city's gastronomical delights. To say that the culinary scene is diverse would be a grotesque understatement. The cuisine reflects a melting pot of cultures, with indigenous, Spanish, and even African flavors melding together in an ecstatic dance of sheer deliciousness.
Start by warming up at one of the city's many picanterías, where you can sample traditional dishes such as rocoto relleno (stuffed spicy peppers) and chupe de camarones (shrimp soup). Be warned, though - these dishes pack a punch and are not for the faint of heart. They'll leave you sweating, panting, and begging for more, much like the spirit of Arequipa herself.
For those who prefer a more refined gustatory experience, wander the streets in search of the city's numerous fusion restaurants. These establishments offer an elegant marriage of tradition and innovation, leaving even the most discerning palate satisfied.
Monasterio de Santa Catalina: A Heavenly Oasis
As you wander through the city's cobbled streets, you may find yourself drawn to the Monasterio de Santa Catalina. This 16th-century convent is more like a city within a city, sprawling over 20,000 square meters and housing a veritable labyrinth of courtyards, cloisters, and hidden chambers.
Step through the imposing entrance and prepare to be transported to another world, one filled with vibrant colors, whispered secrets, and the scent of fresh flowers. As you explore the monastery's many rooms, you can't help but feel humbled by the simplicity and devotion of the cloistered nuns who called this place home. It's a spiritual experience, to say the least, one that will leave you questioning the very nature of existence and the human condition. Or, at the very least, inspire a newfound appreciation for the power of silence.
Adventure on the Colca Canyon
For those who seek heart-pounding exploits and the thrill of staring down into the abyss, there's no better place than the Colca Canyon. This magnificent natural wonder, located just outside of Arequipa, is one of the deepest canyons in the world - nearly twice as deep as the Grand Canyon.
Feeling brave? Embark on a treacherous trek down to the canyon floor, where you'll find the roaring Colca River waiting to embrace you with its icy tendrils. If you're lucky, you might even catch a glimpse of the elusive Andean Condor soaring above, keeping a watchful eye on your progress.
For those who prefer a less arduous adventure, there are plenty of scenic viewpoints and quaint villages along the canyon rim, each offering a different perspective on this awe-inspiring landscape.
The Enigmatic Chachani Volcano
If gazing upon Arequipa's triple threat of volcanoes has ignited a fire within your adventurous soul, why not conquer the mighty Chachani Volcano? Standing at a towering 6,057 meters above sea level, this snow-capped behemoth is an irresistible challenge for mountaineers and masochists alike.
With the right guide, proper equipment, and a hefty dose of sheer determination, you too can stand atop the summit and survey the world below. Just be prepared for the thin air, frigid temperatures, and potential hallucinations that accompany such a daring ascent, not unlike the trials faced by the legendary Don Quixote as he tilted at windmills.
A Final Word of Caution
Arequipa is a city that will seduce you, beguile you, and leave you breathless. It is not for the faint of heart, nor for those who cling to the mundane and predictable. But if you're ready to embrace the wild, the chaotic, and the inexplicable, then by all means, answer the siren's call.
Just remember, my friends, to pack your sense of adventure, your appetite, and perhaps a pocket-sized copy of "Fear and Loathing in Las Vegas" to keep you company on those long, introspective nights.
Article kindly provided by myfavouritehols.com