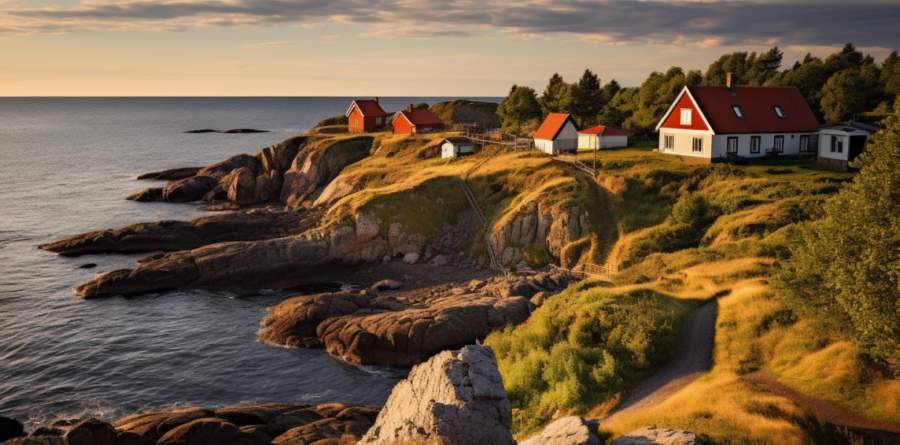 Getting There
When one thinks of Denmark, the mind is naturally whisked away to images of edgy Copenhagen and melancholy Hamlet. But if you venture east of the mainland, farther than the outer reaches of sanity, you'll find Bornholm, a Danish island shrouded in mystery and intrigue.
Accessing this enigmatic island is no small feat, and you have a few options. You can choose to hop on a ferry from Denmark, Poland, or Sweden, or take a small plane from Copenhagen - but where's the fun in that? For the true adventurer, a homemade Viking ship is the only way to go. Paddle your way to paradise, and if you're lucky, maybe even survive the journey.
Once you find this wondrous land mass, you'll immediately realize that it's been hiding its beauty behind an impenetrable veil of obscurity - much like a beautiful woman wearing a ski mask in the middle of summer.
What to Expect
Bornholm Island is a treasure trove of visual and cultural delights. The landscape is a smorgasbord of jagged cliffs, pristine forests, and sandy beaches, all vying for your attention like carnival barkers at the world's most picturesque fair.
The island is home to a veritable smattering of historical sites, from medieval fortresses to ancient burial grounds. And if that's not enough to get your blood pumping, perhaps the local legends of trolls, witches, and other supernatural beings will. With so much to explore, the faint of heart should consider themselves warned.
Things to See and Do
Your itinerary on Bornholm Island will likely be overflowing with activities, as there is no shortage of sights to see and experiences to be had. Some points of interest you absolutely must add to your list include:
Hammershus Castle Ruins: The largest castle ruin in Northern Europe, Hammershus has seen centuries of warfare, intrigue, and general misfortune. The once-mighty fortress now resembles a broken tooth in the jaw of an aging warrior, but it still manages to captivate the imagination.
Round Churches: Bornholm is famous for its four round churches, dating back to the 12th and 13th centuries. These peculiar architectural specimens were thought to have been built as fortifications, but their true purpose remains a topic of debate among historians and pub patrons alike.
Almindingen Forest: As the third-largest forest in Denmark, Almindingen is perfect for those who find solace among the trees. You can have a peaceful stroll along its winding paths, or simply lie down and let the ancient woodland spirits whisper sweet nothings in your ear.
Joboland: The island's very own amusement and water park, Joboland offers fun for the entire family - even if that family includes whiny, spoiled children and in-laws that just won't leave. A day at Joboland is a day spent in the company of roller coasters, water slides, and the occasional llama.
Local Cuisine
One does not simply visit Bornholm without indulging in its local cuisine. The island's smoked fish - specifically herring - is a must-try for any self-respecting palate. If you're lucky enough to visit during the summer months, you'll also have the opportunity to sample the island's famous cherries. These juicy, succulent fruits are the stuff of legend, and have been known to incite fistfights at family gatherings and picnics.
Of course, no culinary journey is complete without imbibing some local libations. Bornholm is home to a number of breweries and distilleries, so you can rest assured that your thirst for beer and spirits will be quenched - or at the very least, temporarily satiated.
Where to Stay
When it comes to accommodations, Bornholm has something for everyone - even those annoyingly picky travelers who simply can't live without their precious room service. From cozy bed and breakfasts to luxury hotels, the island caters to all budgets and tastes.
For a truly unique experience, consider a stay at one of the island's many converted farmhouses. These rustic retreats provide an authentic Bornholm experience, complete with creaking floorboards and the distant cries of livestock. If that doesn't make you feel at one with nature, nothing will.
Final Thoughts
It's clear that Bornholm Island is an undiscovered gem in the crown of Denmark. With its rich history, stunning landscapes, and mouthwatering cuisine, there's no excuse not to make the pilgrimage. So, dust off your Viking helmet, pack your adventurous spirit, and set sail for an unforgettable journey to Bornholm - the island that Denmark forgot.
Article kindly provided by myfavouritehols.com