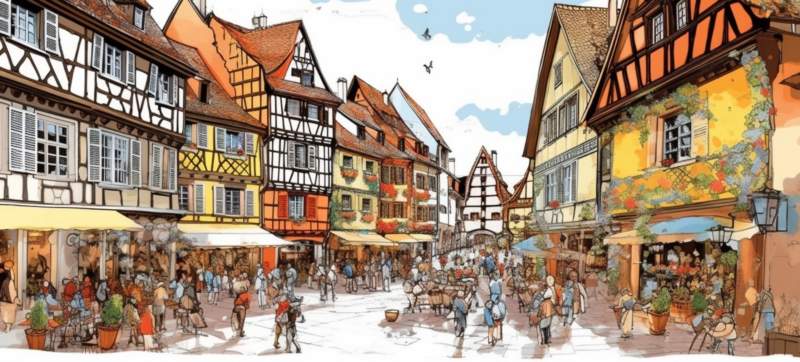 Introduction to Colmar
If there is one place on the face of this weary blue globe that could epitomize the Platonic ideal of quaintness, it would, without a doubt, be the charming burg of Colmar. Nestled in the northeastern corner of France, adjacent to the German border, lies this picturesque town, which appears to have been plucked straight out of the pages of a Brothers Grimm fairytale.
As my increasingly aged and decrepit body made its way across the cobbled streets of this rustic French haven, I couldn't help but marvel at its melange of architectural styles - from the half-timbered medieval houses to the Baroque mansions, punctuated by the occasional modernist glass and steel structure like a neon sign in a Rembrandt painting. The town's rich history, spanning from the middle ages to the present day, was palpable in every nook and cranny.
Primordial Origins
As with all things ancient and French, the origins of the town of Colmar can be traced back to the primordial ooze of the Roman Empire, where it served as a humble military outpost among the vast terrain of Gaul. It was in the 9th century that the town began to emerge from its chrysalis of obscurity, as it found itself strategically situated on the trade route between Paris and Vienna. The town's prosperity has grown ever since, like a fine French wine, only to be sampled and savored by the most discerning of connoisseurs.
Artistic Inspiration
Colmar has a not-so-secret love affair with the arts, and in particular, with one illustrious native son - the master of early Renaissance painting, Matthias Grünewald. Grünewald's magnum opus, the Isenheim Altarpiece, is housed in the exquisite Musée Unterlinden, a former 13th-century Dominican convent. This colossal masterpiece is a veritable feast of religious allegory, wherein one can lose themselves for hours on end in its labyrinthine details.
But the town's artistic affair does not end with Grünewald. As I strolled along the meandering canals of the Petite Venise district, I was struck by the sheer abundance of artistic expression on display. It seems that every window, every door, and every inch of the town's colorful facades serve as a canvas for the local artisans to express their creative prowess. In Colmar, art is not sequestered away in stuffy museums and galleries - it is a living, breathing entity that permeates the very fabric of the town.
Gastronomic Delights
As with any self-respecting French town, Colmar is home to a veritable cornucopia of gastronomic delights. From the sumptuous boulangeries, with their warm, buttery croissants and pain au chocolat, to the abundance of fromageries, where one can sample the finest of French cheeses accompanied by a crisp, locally-produced Riesling, one's taste buds are in for a treat of epic proportions.
Le Petit Bidon: This unassuming bistro, tucked away in a narrow alleyway, serves up traditional Alsatian fare with a contemporary twist. The choucroute garnie, a hearty dish of sauerkraut, sausages, and other meats, is a must-try for the carnivorous among us.


La Soi: A fusion of French and Asian cuisine, La Soi offers an intriguing menu that marries the best of both worlds. The escargot in ginger and lemongrass butter is a particular standout.


Le Caveau Saint-Pierre: Housed in a historic 16th-century cellar, this atmospheric wine bar offers an exceptional selection of local wines, as well as a tantalizing array of cheese and charcuterie boards to accompany your libations.
A Town for All Seasons
One of the most enchanting aspects of Colmar is its chameleon-like ability to transform itself with the changing seasons. In the springtime, the town is awash in a riot of color, as the cherry blossoms, wisteria, and myriad flowers burst forth in a cacophony of vibrant hues. Summer brings with it a more languid pace, as locals and tourists alike take to the canals in flat-bottomed boats, sipping chilled wine and lazily watching the world go by.
Autumn is perhaps the most magical time of all, as the town becomes enveloped in a golden, ethereal light, and the surrounding vineyards are ablaze in a kaleidoscope of reds, oranges, and yellows. And in the winter, Colmar is transformed into a veritable snow globe, its medieval streets and squares adorned with twinkling fairy lights and festive decorations, as the scent of mulled wine and gingerbread wafts through the air.
In Conclusion
There are few places on this earth that can rival the charm and enchantment of Colmar. Its alluring blend of history, culture, and gastronomy make it a destination that is not to be missed. So, I implore you, dear reader, to cast aside your preconceived notions of what a French town should be, and embark on an adventure that I can guarantee will leave an indelible mark on your soul.
Article kindly provided by myfavouritehols.com
User Anecdotes
We've solicited a number of user anecdotes on this topic, and have hand picked some of the more interesting ones below. We feel that anecdotes can give a practical, human perspective on a topic.
"<i>I recently visited Colmar and must say that it truly is a hidden gem in France. The half-timbered houses and cobblestone streets make you feel like you've stepped back in time, and the locals are incredibly warm and welcoming. When I visited, I stayed in a lovely little bed and breakfast in the heart of the old town, which made it easy to explore the area on foot. One of my favorite experiences was taking a boat tour along the canals, which offered stunning views of the historic buildings and colorful flower boxes. The food in Colmar is also exceptional - I particularly enjoyed trying the local specialties like Tarte flambée and Choucroute garnie. Overall, I would highly recommend a visit to anyone looking for a charming, off-the-beaten-path destination in France.</i><br><b>Claire D.</b><br><br>" "<i>Having been to Colmar several times, I can attest that its charm is truly unforgettable. The town is just like a fairytale, with its beautiful architecture and picturesque scenery. One of the things that struck me the most during my visits is the rich cultural history of the town. Colmar is home to the famous Unterlinden Museum, which houses the Isenheim Altarpiece, one of the most important and impressive works of religious art in the world. The town's pride in its history and culture is palpable, and it adds to the enchanting atmosphere.<br><br>Additionally, the town hosts several festivals throughout the year, such as the Colmar International Music Festival and the Christmas Market, which are both a must-see. If you're a wine enthusiast, you'll be pleased to know that Colmar is situated on the renowned Alsace Wine Route, with countless vineyards and tasting rooms to explore. Overall, Colmar is a delightful destination with something for everyone, and it truly deserves more recognition as a top travel spot in France.</i><br><b>Oliver S.</b><br><br>" "<i>My husband and I took a trip to Colmar last year, and it was one of the most memorable vacations we've ever had. The town itself is absolutely stunning, with its colorful half-timbered houses, winding canals, and vibrant flower arrangements. We spent hours simply wandering the cobblestone streets, taking in the charming atmosphere and beautiful architecture.<br><br>One thing that really stood out about Colmar was the warmth and friendliness of the people we met. From the innkeeper at our bed and breakfast to the local shop owners, everyone was so welcoming and eager to share their love for the town with us. We also enjoyed the fantastic food, with a variety of delicious Alsatian dishes to choose from. A personal favorite was the Tarte flambée, a thin-crust pizza-like dish topped with crème fraîche, onions, and bacon.<br><br>If you're considering a trip to France, I highly recommend adding Colmar to your itinerary. It's truly a magical place that you won't want to miss.</i><br><b>Emily J.</b><br><br>" "<i>As a history buff, I was absolutely captivated by Colmar's rich and diverse past. The town has been a focal point of European politics and culture for centuries, and this is evident in the unique blend of architectural styles and the town's numerous museums and historical sites. I was particularly fascinated by the Unterlinden Museum, which is housed in a former medieval convent and boasts an impressive collection of artwork and artifacts spanning the Roman, Medieval, and Renaissance periods. The Isenheim Altarpiece is truly a sight to behold - its intricate details, vibrant colors, and powerful imagery left me speechless. <br><br>Colmar is also home to the Bartholdi Museum, which is dedicated to the life and work of Auguste Bartholdi, the French sculptor who designed the Statue of Liberty. The museum offers a fascinating insight into Bartholdi's creative process and the construction of the iconic statue. I left Colmar with a newfound appreciation for its historical significance and the incredible artists and craftsmen who have shaped its legacy.</i><br><b>Daniel K.</b>""
Want to add your own anecdote? Fill in your comment
via our contact page here
- just put your name in the name field (we will not publish your full name), and your comment in the "message" field. The subject field will already be populated with the title of this article so we know which article you are commenting on. We will NOT publish or use your email address for marketing purposes.