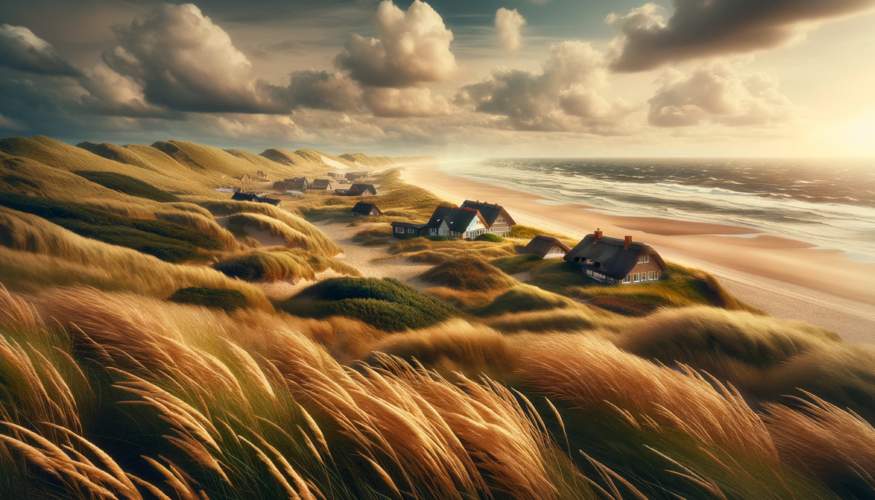 A Bit of Background
There comes a time in every middle-aged man's life when he looks in the mirror and decides that a vacation is in order. And when that time came for me, I found myself yearning for a destination that was different, a place that hadn't already been worn smooth by the unyielding tread of mass tourism. So, I spun the globe and landed on Sylt, Germany's northernmost island, nestled in the bosom of the North Sea.
Sylt has a bit of a reputation in Germany as the destination for the über wealthy and fabulous. It's the sort of place where one imagines men wearing silk ascots and women with improbably small dogs in their handbags. But beneath its veneer of wealth lies an island of windswept beauty, with pristine beaches, unique flora and fauna, and a charm that can't be bought, no matter how many silk ascots you own.
Getting There
Getting to Sylt is an adventure in itself. Unless you have your own private jet or fancy helicopter, you will have to get there by train, which crosses the Hindenburgdamm. The Hindenburgdamm is an 11-kilometer-long causeway named after Germany's most famous zeppelin. The ride across the dam takes about 30 minutes, during which you will be treated to views of the Wadden Sea, a UNESCO World Heritage Site. As you approach the island, you may also spot seals lounging on the sandbanks - one of the many delights waiting for you on Sylt.
Beaches, Bluffs, and Biking
The beaches on Sylt are truly something to behold. With over 40 kilometers of sandy coastline, it's near impossible to find a bad spot to throw down your towel. The island is also home to several nudist beaches, so if you've ever wanted to experience the thrill of beach volleyball in the buff, Sylt is the place to do it. Just be sure to bring a generous supply of sunscreen.
For those who prefer their nature slightly more clothed, Sylt's picturesque bluffs and hiking trails offer an abundance of opportunities for exploration. The island is crisscrossed with bike paths, making it an ideal destination for two-wheeled travelers. And if you don't already own a bike, don't worry - there are plenty of rental options available.
Wattenmeer: A World of Mud and Marvels
One of the unique features of Sylt is its location within the Wattenmeer, a vast expanse of mudflats teeming with life. At low tide, the sea recedes, and the Wattenmeer is transformed into a watery wonderland that begs to be explored. You can book a guided walking tour of the mudflats, but be warned: this is not an activity for the faint of heart or the fashion-conscious. You will be required to wear a pair of thigh-high rubber boots, which are about as flattering as they sound. But if you can bear the indignity, you will be rewarded with an unforgettable experience.
Seal Watching: A Most Unusual Spectator Sport
No visit to Sylt would be complete without a seal-watching excursion. These curious creatures can often be spotted lounging on the sandbanks around the island, and there are several companies that offer guided boat tours to get you up close and personal with the seals. I can't guarantee that you'll see any seals doing synchronized swimming routines, but I can promise that you will come away from the experience with a newfound appreciation for the simple pleasures of sunbathing and wriggling around in the sand.
Gastronomic Delights
When you've had your fill of nature, Sylt also offers a range of culinary experiences to tempt your taste buds. The island is famous for its seafood, particularly the Sylt Royal Oyster, which is cultivated in the waters around the island. If you're feeling particularly adventurous, you can even book a tour of the oyster farm and learn about the intricate process of oyster cultivation, which I'm told is more interesting than it sounds.
For those with a sweet tooth, the island is also home to several traditional bakeries and confectioneries, where you can indulge in a range of pastries and sweets. Be sure to try the traditional "Friesentorte," a delectable concoction of puff pastry, whipped cream, and a filling of your choice. Your waistline may not thank you, but your taste buds certainly will.
In Conclusion
Sylt may not be the most obvious choice for a vacation destination, but it offers a world of windswept beauty and unique experiences that are well worth exploring. Whether you're seeking adventure, relaxation, or simply a change of scenery, this North Sea island is sure to leave you with lasting memories and a yearning to return.
Article kindly provided by myfavouritehols.com