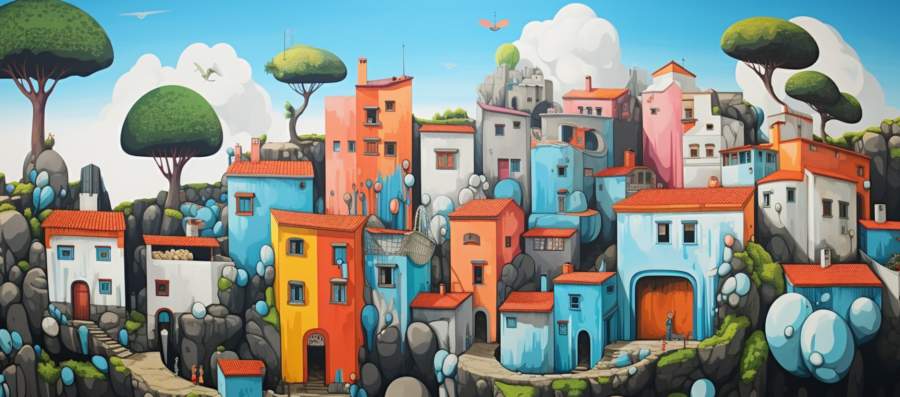 A Brief History of Monsanto
Imagine a village built within the cracks and crevices of giant boulders. Now, add some adult beverages and maybe a touch of ridiculousness, and what you have, my friend, is Monsanto, Portugal's bouldered village in the sky. This geological oddity nestled within the hills of the Portuguese countryside is the definition of eccentricity, and I'm here to take you on a wild ride through its peculiar history and charm.
Monsanto has been perched atop its granite mountain since the 12th century. Throughout the years, this quaint settlement has seen the rise and fall of various civilizations, serving as a strategic military outpost during the Reconquista and even weathering a few sieges in its heyday. But despite its rocky past (pun absolutely intended), Monsanto has remained relatively unscathed, preserving its medieval aura and attracting oddballs and free-spirits like yours truly.
Why Visit Monsanto?
If you're not already convinced that this bouldered village is worth a visit, allow me to make a case. If playing adult hide-and-seek through narrow, winding streets that were obviously designed by an intoxicated cartographer tickles your fancy, then Monsanto is your playground. The village is a maze of stone houses wedged between giant boulders, and navigating the labyrinthine alleys is an adventure in itself.
And if you're a fan of stunning vistas (who isn't?), Monsanto's elevation offers panoramic views of the surrounding countryside that'll leave you breathless - and not just because of the thin air. The village is also home to a 12th-century castle, which, if walls could talk, would have enough stories to fill a library (or at least a moderately-sized Kindle).
So pack your sturdy shoes and your sense of humor, because Monsanto is a village that'll have you rockin" and rollin" (almost literally).
Things to Do in Monsanto
Now that you're sold on the idea of visiting this bouldered wonderland, let's talk about the nitty-gritty: what to do once you're there. And boy, do I have some suggestions for you.
Get Lost: Seriously, just wander. It's impossible not to get lost in the enchanting streets of Monsanto, and that's half the fun. Climb up and down the staircases carved into the rocks, duck into small passageways, and explore the nooks and crannies hidden throughout the village. Some locals even have small shops or cafes in their homes, so you might stumble upon a treasure trove of local crafts or a steaming cup of coffee. Just don't forget your breadcrumbs, so you can find your way back.
Visit the Castle: It'd be a crime not to check out the Castelo de Monsanto, a 12th-century fortress that has seen its fair share of battles and boulder-induced mishaps. The castle ruins are perched on the highest point of the village, so you'll need to put your mountain goat skills to the test. But trust me, the views from up there are worth the huffing and puffing.
Attend a Festival: If you happen to visit Monsanto during one of their annual festivals, you're in for a treat. The most famous is the Festa das Cruzes in May, which involves locals dressing up in traditional garb, dancing, and carrying huge flower-covered crosses through the streets. Just try not to get impaled - it's all fun and games until someone gets crushed by a cross.
Eat All the Cheese: No trip to a small European village would be complete without gorging on some local cuisine, and Monsanto is no exception. Be sure to try the queijo de ovelha, a traditional sheep's milk cheese that'll leave your taste buds singing and your cholesterol weeping.
A Word of Caution
Before you embark on your Monsanto adventure, there's one thing you need to be aware of: the village is not for the faint of heart. Or the clumsy. Or the easily-bruised. The streets and paths are essentially one giant obstacle course of uneven cobblestones and boulders, so you'll need to watch your step and probably also your head.
But if you're up for the challenge and can navigate the village without breaking a bone (or two), you're in for an experience that's equal parts unique, bizarre, and downright exhilarating. So strap on your helmets and knee pads, friends, and let's go conquer Monsanto, Portugal's bouldered village in the sky!
Article kindly provided by myfavouritehols.com