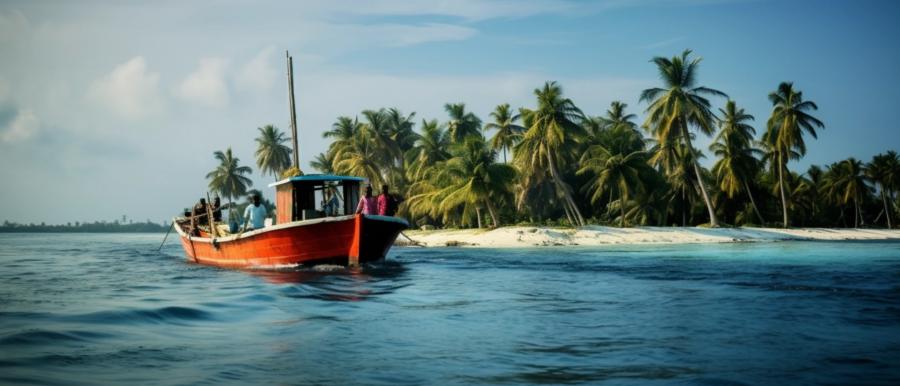 Stumbling Upon Paradise
Imagine you're playing a game of "Pin the tail on the donkey" with a map of India, blindfolded and spun around, and the donkey is a coral paradise. Well, congratulations! You've stumbled upon Lakshadweep, a little-known tropical archipelago off the southwestern coast of India. A place where coral reefs are still a wonderland, not a graveyard, and where dolphins frolic alongside your boat, not in a can of tuna.
Now, I'm not asking you to break out your snorkel and fins just yet. There's a reason Lakshadweep remains a well-kept secret—getting there isn't easy, and neither is getting around. But for those who make the effort, you'll be rewarded with pristine beaches, shimmering lagoons, and a sense of adventure that'll make you feel like a modern-day Jacques Cousteau, minus the natty red hat.
Getting to the Coral Wonderland
First things first: you need to find a way to get to this magical place. Lakshadweep is an archipelago of 36 islands, but only 10 are inhabited, and only a few of those are open to tourists. The main entry point is Agatti Island, which has the only airport in the region. You could fly from Kochi, but the rickety propeller planes are not for the faint-hearted. Plus, the view from the plane window might make you reconsider your life choices as you spot the tiny airstrip on the edge of a lagoon.
If you prefer a more leisurely journey, you could take an overnight ship from Kochi. The ships are charmingly named after the islands—Lakshadweep, Minicoy, Kavaratti, and Corals. But don't be fooled by their names; these ships are more like floating hostels than luxury liners. You'll need to share your cabin with strangers and bring your own food, unless you fancy surviving on samosas and chai for the duration of the journey. However, the sunrise over the lagoon as you arrive on Agatti is worth it, and you'll probably have a few new friends by the time you disembark.
Permit Me to Explain
Before you set foot on the islands, you'll need a permit. Yes, you need permission to visit paradise, and obtaining it can be a bureaucratic exercise that makes Kafka look like Dr. Seuss. But don't worry, there are travel agents in Kochi who'll gladly take your money and do the paperwork for you. The permit is valid for a month, so you'll have plenty of time to soak up the sun and explore the coral wonderland.
Island Hopping the Coral Atolls
Once you're on Agatti, you'll want to explore the other islands, which is where things get interesting. The local transport consists of small wooden boats called dhoanis, which are charming, if not particularly comfortable or speedy. The dhoani captains are friendly and full of local gossip, so the journey between islands will be as entertaining as it is scenic. Just don't expect a smooth ride or luxury amenities—these boats are built for fishing, not for ferrying picky tourists.
Bangaram Island: This is the only island where tourists can consume alcohol, so it attracts a more, shall we say, "spirited" crowd. The island has a beautiful lagoon and a small resort, perfect for those who want to relax and sip cocktails in between snorkeling sessions.
Kavaratti Island: The capital of Lakshadweep, Kavaratti, is home to the Ujra Mosque, which features beautiful carved wooden ceilings. There's also a marine aquarium where you can gawk at the local marine life without getting wet.
Kalpeni Island: Known for its pristine beaches, Kalpeni has a shallow lagoon that's perfect for swimming and snorkeling. The island also offers canoeing and kayaking for the more adventurous.
Minicoy Island: Minicoy has a distinct culture and language, influenced by its proximity to the Maldives. The island has a beautiful turquoise lagoon and is famous for its tuna fishing industry.
Underwater Playground
The real star of Lakshadweep, however, is the underwater world. The coral reefs here are largely untouched (please keep it that way), and the marine life is abundant. Snorkeling and scuba diving are the main attractions, with many sites teeming with colorful fish, turtles, and rays. The water is crystal clear, and the shallow lagoons make for easy snorkeling, even for beginners.
There are dive centers on Agatti and Bangaram that offer PADI courses and guided dives, so you can explore the coral wonderland safely and responsibly. Just remember to respect the coral and its inhabitants—don't touch anything, and don't leave anything behind. Unfortunately, Lakshadweep doesn't have a coral equivalent of the "take only pictures, leave only footprints" mantra, so you'll have to settle for the memories, photos, and perhaps a slight sunburn as your souvenirs.
A Coral Wonderland Worth the Effort
Lakshadweep isn't for everyone—it's remote, it's challenging to get to, and it's far from luxurious. But for those who seek an untouched coral paradise and the adventure of exploring a destination far from the beaten path, it's a journey worth taking. So pack your spirit of adventure, your sense of humor, and just maybe, some extra samosas.
Article kindly provided by myfavouritehols.com