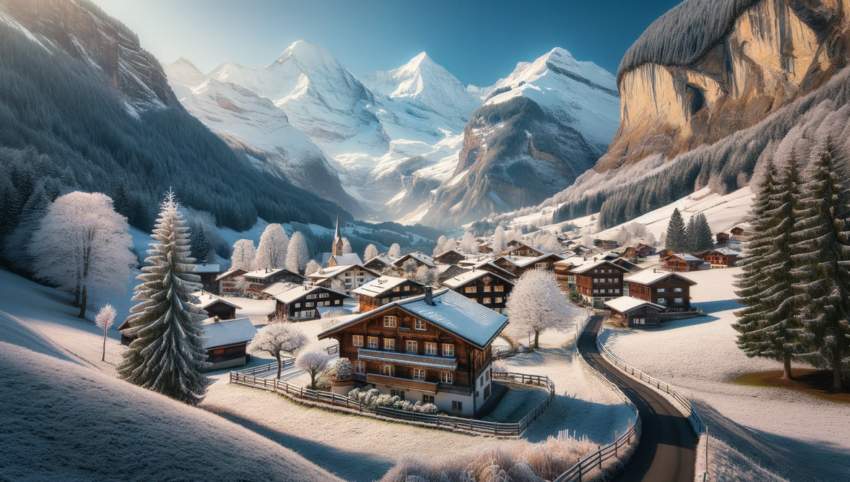 Getting into Gimmelwald
A trip to Gimmelwald, one of Switzerland's most enchanting mountain hamlets, is akin to stepping through a magical portal into a serene fairy-tale wonderland. If you're one of those individuals who wisely shies away from the hustle and bustle of metropolis, and seeks solace in the embrace of Mother Nature, Gimmelwald will almost certainly have you weeping tears of joy.
Reaching Gimmelwald requires one to traverse the majestic Swiss Alps via a series of cable cars and trains. The journey begins from the quaint town of Lauterbrunnen, where you board a cog railway that whisks you up the mountain to Grütschalp. From there, a leisurely hike or a panoramic cable car ride to Mürren awaits, followed by another cable car descent into Gimmelwald itself. Throughout this delightful escapade, you'll be treated to breathtaking vistas that are best savored in silence, lest your exclamations of awe disturb the very fabric of the serene atmosphere.
Embracing the Simplicity of Life
Upon arrival in Gimmelwald, don't be surprised if you're suddenly struck by the urge to cast away all your worldly possessions and spend the rest of your days frolicking amidst the wildflowers and charming wooden chalets. This idyllic hamlet is a testament to the beauty of living a simple life, unencumbered by the trappings of modern society.
And speaking of simplicity, one must adjust their expectations accordingly when it comes to accommodations in Gimmelwald. The village is bereft of luxurious hotels, but there are a few guesthouses and hostels to choose from, each offering a warm and cozy experience that will leave you feeling as though you've been adopted by a family of benevolent, albeit slightly eccentric, Swiss mountain folk.
Activities in Gimmelwald
While Gimmelwald may not be teeming with adrenaline-pumping activities, it more than makes up for it with the sheer tranquility and natural beauty it has to offer. Here are a few activities to consider during your stay in this enchanting hamlet:
Hiking: Gimmelwald is home to an abundance of hiking trails that cater to all levels of fitness and bravery. Whether you're a seasoned trekker or a novice, there's a trail in Gimmelwald that will suit your needs. Be sure to pack a hearty picnic - after all, nibbling on a chunk of Swiss cheese with a backdrop of the Alps is a memory that will remain etched in your mind for eternity.
Paragliding: If the thought of gently floating through the sky whilst gazing upon the snow-capped peaks of the Swiss Alps tickles your fancy, then paragliding in Gimmelwald is an absolute must. It's an experience that promises equal parts exhilaration and serenity - a harmony rarely achieved in our tumultuous lives.
Mountain Biking: If you prefer your adventure on the ground, rent a mountain bike and explore the myriad of trails in Gimmelwald. Just remember to stay on the marked paths, lest you find yourself careening down a mountainside with nothing but a stray goat to cushion your fall.
Eating in Gimmelwald
As you may have surmised, Gimmelwald's dining scene isn't exactly a cornucopia of international flavors. Instead, you'll be treated to simple, hearty Swiss cuisine that will leave your belly full and your heart content. The local cheeses, sausages, and fresh bread are not to be missed, and there's something undeniably satisfying about tucking into a steaming pot of fondue after a long day spent exploring the great outdoors.
If you're seeking a more refined dining experience, head to the nearby village of Mürren, where you'll find a few upscale restaurants offering a wider range of culinary delights.
Final Thoughts
Gimmelwald is not for everyone. If you're searching for a destination with a pulsating nightlife or a plethora of tourist attractions, you're better off looking elsewhere. However, if what you desire is an escape from the cacophony of modern life, a place where you can immerse yourself in the soothing embrace of nature and reconnect with your inner calm, then Gimmelwald is waiting for you with open arms.
So pack your bags, bid adieu to your devices, and prepare yourself for an unforgettable foray into the magical world of Switzerland's sleepy mountain hamlet. With each breath of crisp alpine air, it's impossible not to feel a sense of tranquility washing over your very soul. And who knows - perhaps you'll return home with a newfound appreciation for the simpler things in life, and a renewed zest for living it to the fullest.
Article kindly provided by myfavouritehols.com