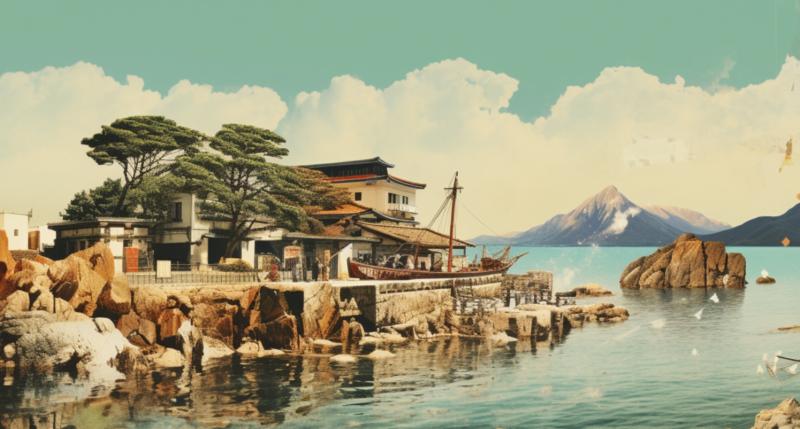 The Island of Art and Architecture
It's a bit like the feeling one gets when they accidentally stumble upon an exotic insect in the Amazon jungle. That's the best way I can describe my reaction when I found myself on the small island of Naoshima in Japan. The place is a visual and cultural treasure trove, nestled in the Seto Inland Sea, where art, architecture, and nature blend in a sophisticated and intriguing manner.
With its sandy beaches, lush green forests, and traditional fishing villages, Naoshima is a serene spot with a unique charm. However, what truly sets it apart from other islands is its transformation into an international art destination, boasting a wealth of museums, galleries, outdoor art installations, and architectural marvels by some of the world's most renowned artists and architects.
So, strap yourselves in, my intrepid wanderers, as I recount my adventures exploring the cultural riches of this enchanting island.
Benesse House: A Museum, A Hotel, An Experience
As my ferry approached Naoshima, I was astounded to see a structure that appeared to blend seamlessly into the landscape, as if it were a natural part of the environment. This, I would later discover, was the Benesse House, a hotel-cum-museum designed by the famed Japanese architect Tadao Ando. This innovative fusion of art, architecture, and hospitality allows visitors to stay and interact with the art in a way that is simply not possible in conventional museums.
I spent my first night on the island in one of the hotel's oval-shaped guest rooms and found it to be both minimalist and luxurious. The real highlight, however, was waking up to an unobstructed view of the Seto Inland Sea, with the early morning sun casting a golden hue over the water.
Beyond the guest rooms, the Benesse House Museum houses a phenomenal collection of contemporary art, with works by the likes of Jean-Michel Basquiat, Yayoi Kusama, and Cy Twombly, among others. With its glass walls and open-air courtyards, the museum itself is a work of art, encouraging visitors to contemplate the relationship between art, nature, and the human experience.
Chichu Art Museum: Journey to the Heart of Art
Imagine my delight when I discovered that there was another museum on the island, equally as captivating and enigmatic as the Benesse House. The Chichu Art Museum, also designed by Tadao Ando, is a subterranean exhibition space that dares to challenge the traditional museum model. Built almost entirely underground, the museum relies on natural light to illuminate the artworks, creating an ever-changing viewing experience that is both intimate and mystifying.
The Chichu Art Museum's collection is small but immensely powerful, consisting of the work of just three artists: James Turrell, Walter De Maria, and Claude Monet. Each artist has a dedicated gallery, allowing visitors to fully immerse themselves in their respective oeuvres. I found it particularly fascinating to see Monet's Water Lilies paintings in this unconventional setting, where the shifting light conditions of the museum space imbued the works with a fresh and mesmerizing quality.
Art House Project: Breathing New Life into Old Homes
Art on this island is not confined to museums alone. In the heart of Naoshima's Honmura village, I stumbled upon the Art House Project, a collection of abandoned houses, workshops, and temple buildings that have been transformed into art installations by various artists. Each space has its own unique character, and wandering through the village, I felt as if I were participating in a treasure hunt, discovering hidden gems around every corner.
Kadoya: This 200-year-old traditional Japanese house has been restored by artist Tatsuo Miyajima and now houses his mesmerizing LED installation, "Sea of Time '98."
Minamidera: A collaboration between artist James Turrell and architect Tadao Ando, this temple-like structure invites visitors to experience a work of art that is both visual and sensory, playing with the perception of light and darkness.
Go'o Shrine: A glass staircase leads visitors underground to a space filled with water, creating a reflective environment that symbolizes the connection between the sacred and the everyday.
The Art House Project is a testament to the power of art to revitalize and rejuvenate a community, breathing new life into these once-decaying spaces.
Ogijima's Soul: A Giant Sea Creature?
Before I knew it, my time on Naoshima was drawing to a close, but not before I made one final, unforgettable discovery. As I strolled along the island's southern coast, I came across a mysterious, large, sea creature-like structure that appeared to be emerging from the earth. This, I learned, was "Ogijima's Soul," a stunning installation by Spanish artist Jaume Plensa. Composed of alphabet letters from various languages, the sculpture represents the idea of universal communication, and fittingly, I found it to be a fitting symbol of my time on this enchanting island.
In the end, my journey through the cultural riches of Naoshima was nothing short of extraordinary. This tiny island in the Seto Inland Sea is a shining example of how art, architecture, and nature can come together in harmony, offering visitors an experience that is at once thought-provoking, inspiring, and deeply moving. So, if your soul yearns for artistic enrichment and your eyes crave aesthetic splendor, look no further than Japan's Naoshima.
Article kindly provided by myfavouritehols.com