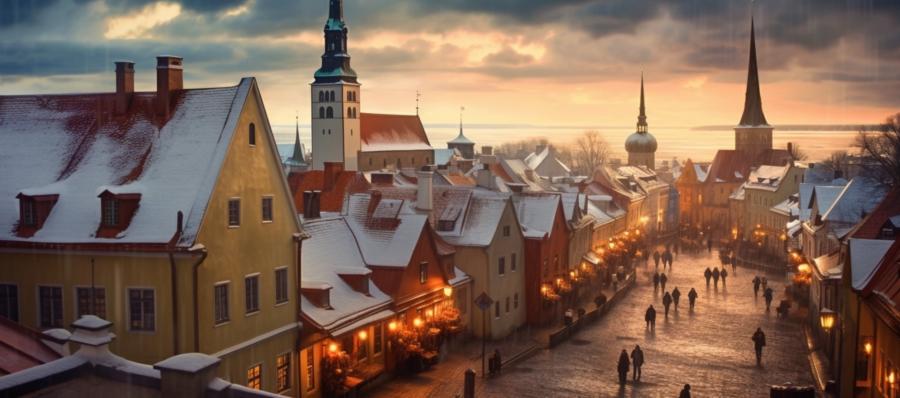 Once Upon a Time in Tallinn: A Brief History
As I sauntered through the cobbled streets of Tallinn, my mind raced back to the city's rich history. Like a seasoned time traveler, I delved into the world of knights and maidens, merchants, and marauders. Tallinn, Estonia's capital, is not your average European city. Its medieval splendor has been remarkably preserved, making it a UNESCO World Heritage Site and a delightful destination for the wanderlust-infected.
Founded in 1154, Tallinn has been a battlefield for countless foreign invaders, including the Danish, Swedish, Russian, and German forces. The city has had its fair share of historic villains, and no doubt its fair share of medieval heroes as well. But let's cut to the chase and explore the wonders that await in the labyrinth of ancient streets.
Old Town: The Heart of Tallinn's Medieval Majesty
Upon entering the Old Town, I felt like Alice in Wonderland, tumbling through the rabbit hole into a world of sheer architectural bliss. The Old Town, divided into Lower Town and Toompea Hill, is where the magic happens. The labyrinth of cobblestone streets and alleys transports you back to the 13th century, with its towering church spires, ancient city walls, and hidden courtyards.
As I ventured through the Lower Town, I encountered the bustling Town Hall Square - a melting pot of cultures, colors, and delicious aromas. The square has seen its fair share of public trials, executions, and medieval celebrations. Nowadays, it is a thriving hub of restaurants, shops, and museums.
Continuing my quest, I stumbled upon the oldest continuously operating pharmacy in Europe, Raeapteek. Established in 1422, this medieval pharmacy is a treasure trove of ancient remedies, tonics, and potions. The in-house museum showcases bizarre medical curiosities like mummy juice, burnt bees, and powdered unicorn horn. Delightful!
Toompea Hill: Where Nobles and Knights Once Dwelled
Conquering Toompea Hill, I could almost hear the clattering of knights on horseback, as I gazed at the opulent Toompea Castle, home to Estonia's parliament. The views from atop the hill were simply breathtaking, as I marveled at the terracotta rooftops, church spires, and medieval towers below.
While roaming the fortress-like district, I couldn't help but be drawn towards the Alexander Nevsky Cathedral. This Russian Revival beauty is truly a sight to behold, with its black onion domes, golden crosses, and intricate mosaics. An architectural triumph, the cathedral stands as a reminder of Estonia's tumultuous past under Russian rule.
Kalamaja: A Hip Twist on Medieval Splendor
After my medieval escapades, I decided to venture beyond the Old Town walls to the hipster paradise of Kalamaja. This bohemian neighborhood is a delightful juxtaposition of old and new, with its colorful wooden houses, trendy cafes, and vibrant street art. Kalamaja is the perfect place to unwind and sample some of Estonia's finest craft beers, as I soon discovered.
An absolute must-visit in Kalamaja is the Seaplane Harbour Maritime Museum, housed in a colossal seaplane hangar dating back to 1916. The museum showcases Estonia's maritime history, including a 1930s submarine, antique seaplanes, and a mesmerizing underwater world.
Practical Tips for the Time-Travelling Tourist
Getting there: Tallinn is well-connected to major European cities via air and sea. The Tallinn Airport and Ferry Terminal are just a stone's throw away from the city center.
Getting around: The Old Town is best explored on foot, but for those venturing beyond the city walls, Tallinn's public transport system is efficient and hassle-free.
Where to stay: Accommodation options in Tallinn are aplenty, catering to every budget and preference. Old Town's medieval charm makes it the ideal base for exploring the city.
When to visit: Tallinn is a year-round destination, with each season offering its unique charm. Winter brings enchanting snowscapes, while summer sees the city come alive with outdoor events and festivals.
So there you have it, brave adventurers, an enthralling tale of medieval splendor, architectural marvels, and epic histories. Estonia's Tallinn is a treasure trove waiting to be discovered, so don your time-traveling cape and prepare for a journey like no other.
Article kindly provided by myfavouritehols.com