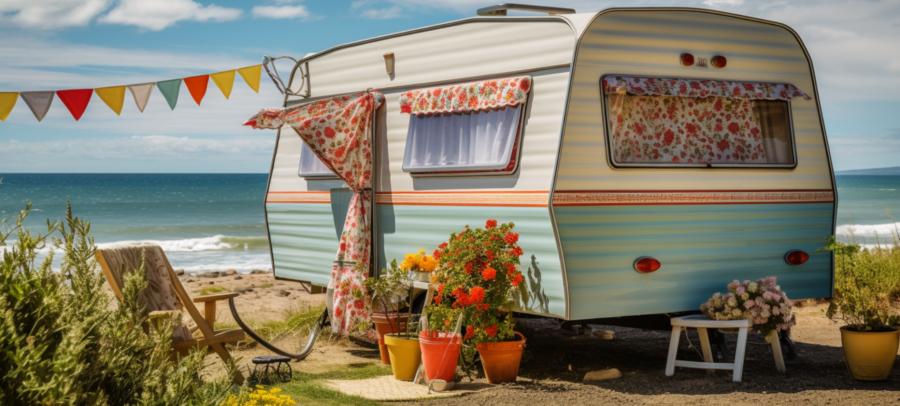 Embarking on an unforgettable caravan holiday in the UK doesn't have to drain your bank account. In fact, there's a hidden gem in the world of travel that allows you to escape on a shoestring budget, while still experiencing the joys of exploration and adventure. Introducing cheap caravan holidays in the UK - the perfect solution for those seeking a budget-friendly getaway without compromising on excitement. Whether you're yearning for breathtaking coastal views, tranquil countryside landscapes, or vibrant city escapades, the UK's vast array of affordable caravan parks offers a multitude of possibilities. From the rolling hills of Cornwall to the rugged Scottish Highlands, this guide will unveil the best destinations and tips to make the most of your cheap caravan holiday. So, grab your sense of adventure and join us on a journey to discover the hidden treasures of the UK, all while keeping your wallet intact. It's time to escape the ordinary and embrace the extraordinary without breaking the bank.
Advantages of Cheap Caravan Holidays
When it comes to cheap caravan holidays, there are numerous advantages that set them apart from traditional UK holidays. Firstly, the cost-effectiveness of caravan holidays is unparalleled. With the rising prices of hotels and holiday cottages, opting for a caravan allows you to save a significant amount of money. Not only are the rental rates affordable, but you also have the flexibility to cook your own meals, eliminating the need to dine out every night. This can result in substantial savings, especially for families or groups of friends traveling together. Additionally, most caravan parks offer a variety of amenities such as swimming pools, playgrounds, and entertainment facilities, ensuring that there's always something to keep everyone entertained.
Another advantage of cheap caravan holidays is the freedom they provide. Unlike package holidays or guided tours, caravanning allows you to set your own itinerary and explore at your own pace. Whether you want to spend a few days lounging on the beach, hiking through the countryside, or visiting historical landmarks, the choice is entirely up to you. Caravanning also gives you the opportunity to immerse yourself in nature and enjoy the great outdoors. Waking up to the sound of birds chirping and being surrounded by stunning landscapes is an experience that simply cannot be replicated in a hotel room.
Furthermore, cheap caravan holidays foster a sense of community and camaraderie. Caravan parks often have a friendly and welcoming atmosphere, with fellow holidaymakers sharing stories and recommendations. This creates a unique social environment where you can make new friends and connect with like-minded individuals. Whether you're traveling solo, as a couple, or with your family, the sense of community in caravan parks adds an extra layer of enjoyment to your holiday.
Popular Destinations for Cheap Caravan Holidays in the UK
The United Kingdom is blessed with a wide range of destinations that are perfect for cheap caravan holidays. One of the most popular regions is Cornwall, located on the southwestern tip of England. Known for its stunning coastline, picturesque fishing villages like Polperro and sandy beaches like Perranporth, Cornwall offers a plethora of caravan parks catering to all budgets. From the charming towns of St Ives and Padstow, to the dramatic cliffs of Land's End, there are endless opportunities to explore the natural beauty of this region.
If you prefer a more rugged and remote setting, the Scottish Highlands should be at the top of your list. With its majestic mountains, pristine lochs, and vast open spaces, this region is a paradise for nature lovers. From the famous Loch Ness to the breathtaking Isle of Skye, the Scottish Highlands offer a sense of tranquility and solitude that is hard to find elsewhere. There are plenty of well-equipped caravan parks scattered throughout the region, allowing you to enjoy the beauty of the Scottish landscape while still having access to modern facilities.
For those seeking a mix of vibrant city life and natural beauty, the Lake District in northwest England is an ideal choice. With its picturesque lakes, rolling hills, and charming villages, this UNESCO World Heritage Site has inspired countless poets and writers throughout history. Caravan parks in the Lake District offer a range of amenities and activities, from hiking and cycling to boat trips and wildlife spotting. The region is also home to bustling towns such as Keswick and Ambleside, where you can indulge in shopping, dining, and cultural experiences.
Tips for Finding the Best Deals on Cheap Caravan Holidays
Finding the best deals on cheap caravan holidays requires a bit of planning and research. The first step is to determine your budget and travel dates. Traveling during off-peak seasons, like avoiding the school holidays or weekdays can often result in lower rates and better availability. Once you have a rough idea of when and where you want to go, it's time to start searching for caravan parks. It's also worth checking the websites of individual caravan parks, as they may offer exclusive deals or promotions.
In addition to researching caravan parks, it's worth exploring the local area and nearby attractions. Look for free or low-cost activities and attractions that can add value to your holiday. From hiking trails and nature reserves to historical sites and cultural events, there's often a wealth of things to see and do without breaking the bank. Planning your itinerary in advance will not only save you money but also ensure that you make the most of your time in the area.
Caravan and Lodge Holidays makes this whole process easier as we have collected the latest last minute caravan holiday deals all in one location so that you can get the best value for money caravan holiday in the UK. We have the best deals from all of the major chains including Parkdean, Haven, Park Holidays and more. You can view all of these deals by clicking on the link in the header to get the very best deal available at the moment.
Article kindly provided by caravanandlodgeholidays.co.uk