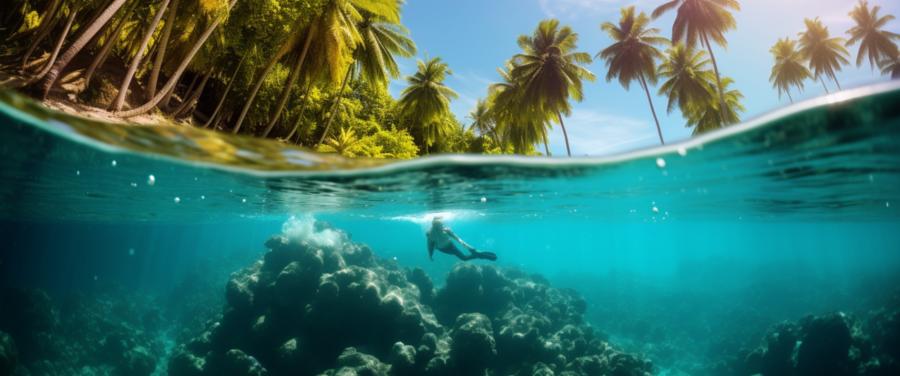 Thailand, a country known for its stunning landscapes, rich culture, and friendly locals, is also a world-renowned destination for diving enthusiasts. With its warm, clear waters, vibrant marine life, and a variety of dive sites suitable for all levels, it's no wonder that Thailand attracts divers from around the globe. In this article, we'll explore some of the best spots to dive in Thailand.
Koh Phi Phi
The Phi Phi Islands are another popular diving destination in Thailand. Known for their stunning limestone cliffs and clear waters, these islands offer a variety of dive sites with abundant marine life. The King Cruiser Wreck, a sunken ferry lying between Phuket and Phi Phi, is a popular site among advanced divers.
Pattaya
Pattaya, a city on Thailand's eastern Gulf coast, is known for its wrecks and islands. The HTMS Khram and HTMS Kut are two well-preserved wrecks that attract divers from around the world. The nearby islands, such as Koh Larn, Koh Sak, and Koh Krok, offer shallow dive sites suitable for beginners and training dives.
Koh Chang
Koh Chang, located near the Cambodian border in the Gulf of Thailand, is a less crowded diving destination. The island offers a variety of dive sites, from shallow coral reefs to deeper pinnacles. The HTMS Chang, a former US warship that was sunk to create an artificial reef, is a popular site among advanced divers.
Koh Tao
Koh Tao, also known as Turtle Island, is one of the most popular diving destinations in Thailand. The island is particularly famous for its affordable diving courses, making it an ideal place for beginners. However, it also offers a variety of dive sites that can satisfy even the most experienced divers.
Astonishing coral reefs and marine life to explore.
Among the top diving destinations in Thailand, Koh Tao stands out for its vibrant coral reefs and abundant marine life. It's a perfect spot for both novice and experienced divers. When it comes to diving in Koh Tao, Grand is a world-class dive center that offers an exceptional diving experience.
Best place to discover and pass the first level of diving certifications.
Grand offers a comprehensive range of PADI certifications, including Discovery Diving, Open Water, Advanced Open Water, Specialties, Rescue, and EFR. Whether you're a beginner eager to explore the underwater world or an experienced diver looking to enhance your skills, Coral Grand Divers has the perfect course for you. Check out our full range of on our website.
Best place to become Professional Diving.
For those aspiring to take their diving passion to a professional level, Coral Grand Divers offers the 'Go Pro" program. This includes the Instructor Development Course (IDC) and Master Scuba Diver Trainer (MSDT) courses. These are designed to equip you with the skills and knowledge necessary to become a professional diver and dive instructor.
Similan Islands
Located in the Andaman Sea, the Similan Islands are a group of 11 islands known for their diverse marine life and beautiful coral gardens. The islands are a national park and have been a protected area since 1982, which has helped preserve their natural beauty. The dive sites around the Similan Islands are suitable for all levels, and the visibility is excellent, often exceeding 30 meters.
Richelieu Rock
Richelieu Rock is a favorite among macro photographers for its colorful soft corals and diverse marine life. This horseshoe-shaped reef offers a chance to spot everything from tiny seahorses and shrimp to large pelagics like manta rays and whale sharks. The site is suitable for intermediate and advanced divers due to its depth and currents.
Hin Daeng and Hin Muang
Located in the southern part of the Andaman Sea, Hin Daeng and Hin Muang are two submerged pinnacles famous for their deep drop-offs and the chance to spot manta rays and whale sharks. These sites are considered among the best in Thailand and are suitable for advanced divers due to their depth and strong currents.
In conclusion, Thailand offers a wealth of diving opportunities for divers of all levels. Whether you're a beginner looking to get your feet wet or an experienced diver seeking new adventures, you're sure to find a dive site that suits your needs in Thailand. Happy diving!
Article kindly provided by coralgranddivers.com